Spicy shrimp with Green Beans and a side of Bok Choy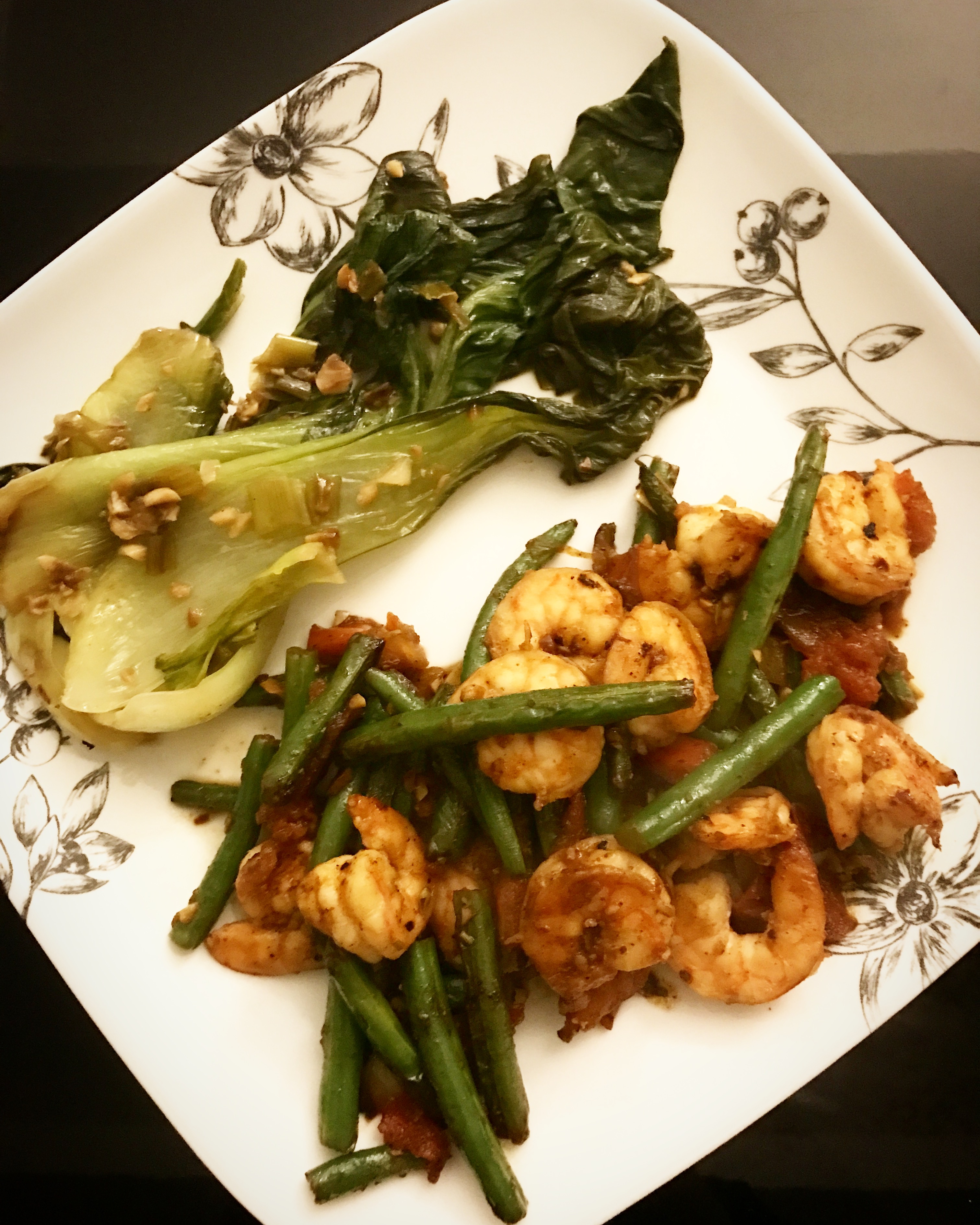 When I first met Hassan it was big deal if I boiled pasta right.  Anytime something had to go in the oven, it was always undercooked.  I suppose this could be because I stuck the pan of food in right away instead of waiting until the oven beeped at 350.  For some reason I really felt that the food would cook while the temperature of the oven was still rising and that I wouldn't need to add extra time to it.  Several rookie mistakes later, I've learned patience in the kitchen and cooking is something I've come to enjoy.  While I don't claim to be an expert in any of it, I'm lucky to have a husband who eats anything I make thus encouraging the whole process.  Last night I made a spicy shrimp and green bean recipe after we had enjoyed it at a local restaurant, with a side of bok choy.  Simple and flavorful!
Bok Choy:
Ingredients
2 bunches of bok choy- cut the coarse bottom and halve or quarter lengthwise

4 garlic cloves- minced

Scallions- chopped

2 tbsp water

2-3 tbsp soy sauce

Vegetable or olive oil
Instructions
After heating oil (use a pan that has a lid), add garlic and scallions. Let them brown for a minute. Add bok choy, water and soy sauce then cover for 2-3 minutes. Stir once, and cover again for an additional 5 minutes. Serve!
Spicy shrimp and green beans:
Ingredients
15-20 pieces of shrimp- deveined/ tail off etc

4 garlic cloves – minced

2 fistfuls of green beans- cut off ends and halve

1 small yellow onion- chopped

1 tomato – chopped

2 tbsp olive oil

2 tbsp brown sugar

4 tbsp soy sauce

tsp of pepper

tsp of red pepper flakes

tsp of chili powder

tsp of cumin
Instructions
Use a wok or large pan and heat oil. Add shrimp and cook on each side, takes 1- 2 min then set aside.
Add green beans and cook/stir for 5 min. While green beans are cooking, in a small bowel mix brown sugar and soy sauce together until dissolved then set aside.
Add onions and stir for additional 2 min. Then add garlic and tomatoes. Cook for 3 more min. Stir in pepper, red pepper flakes, chili powder and cumin.
Add in shrimp and soy sauce/brown sugar mixture and stir for additional 2 min.
Serve!
---
---